Dorner 2200 Series | UR+ Solutions
Dorner | UR+ Solution Brochure
Cutting Edge Solutions: Dorner 2200 Series | UR+ Solutions
2200 Series conveyors are designed to be the infeed and discharge to a Universal Robot.  The conveyor will bring the product to the robot and then take the product away from the robot.
Ideal for a wide range of applications- our 2200 Series low profile, high-performance fabric, and modular belt conveyors feature a high-speed nose bar transfer option, a durable single piece frame design, universal T-slots, and a wide range of belting and guiding options.
What Universal Robot products are 2200 Series conveyor compatible with?
UR3 Robot: Payload 3kg
UR5 Robot: Payload 5kg
UR10 Robot: Payload 10kg
Compatible with e-Series
How does the UR Controller work with Dorner Conveyors?
Using the UR Controller with the installed Dorner UR+ Plug-In, you can:'

Control up to 2 different conveyors being used with your Universal Robot
Start and Stop the conveyor(s)
Move conveyor belt forward OR reverse the conveyor(s)
Choose and change the conveyor(s) speed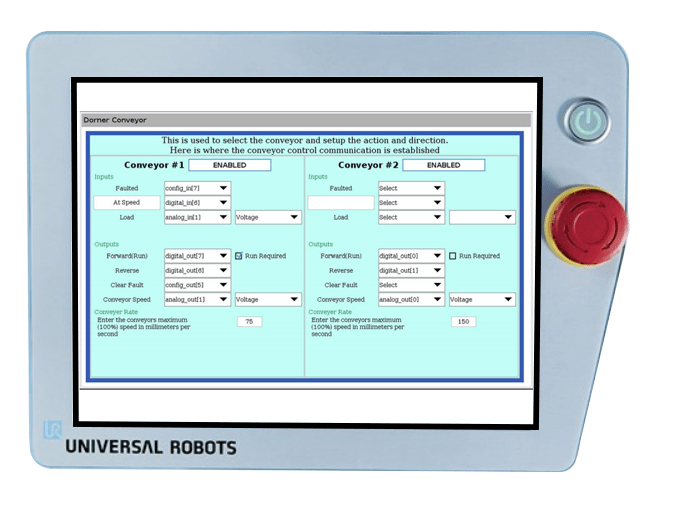 ---
Why choose a Dorner Conveyor | UR+ Solution?
EASY PROGRAMMING

UR+ patented technology allows operators to set-up & operate cobots easily & efficiently.

FAST SET-UP

Industry-leading set-up times and an efficient out of box set-up availability allows operators to unpack, mount, and program the cobots first task in only a few hours.

FLEXIBLE DEPLOYMENT

Lightweight, space saving UR+ Solutions are easy to redeploy to multiple applications.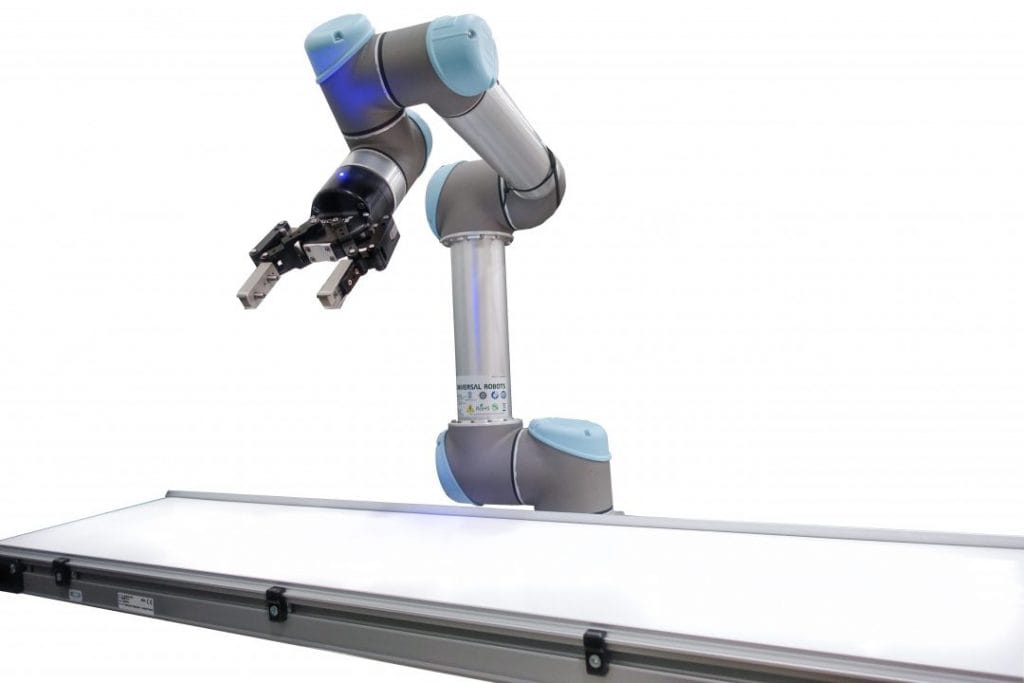 Discover how Dorner Conveyors and UR+ Solutions can help optimize your performance and efficiency today!
To download the plug-in & manual, fill out the form below: